Friday Follow-up:
a message from Brian M. Hildreth, STLS Executive Director
Chris Corter of CCLD Reflects on 30-Years of Service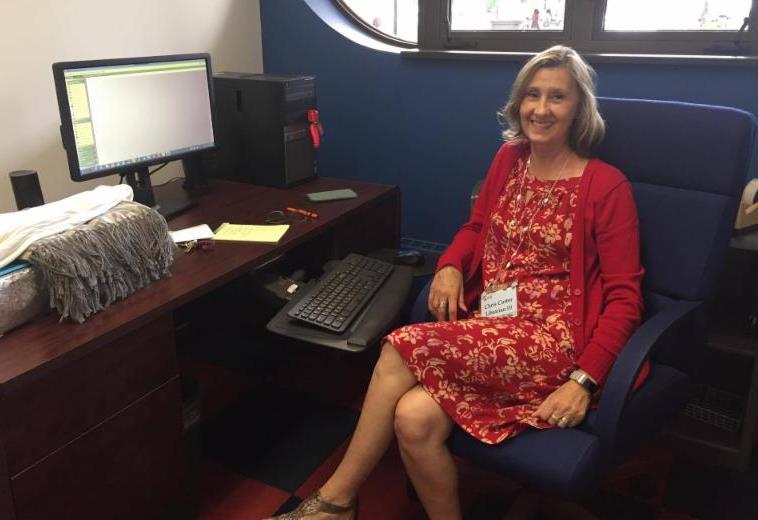 Christine "Chris" Corter of the Chemung County Library District takes a moment to smile during her last day of service to the greater Chemung County community. Chris retired in July after 30-years of librarianship. She took a moment to answer some of my questions before departing CCLD and the Southern Tier Library System.


In late July I learned one of our legacy member librarians was retiring. It is bitter-sweet when someone leaves our greater STLS family. You wish them the very best, but also acknowledge they no longer will be present at system-wide events. I always enjoyed running into Christine "Chris" Corter of the Chemung County Library District.

Chris joined the libraries of Chemung County back in 1987 when she moved from Pennsylvania. For more than 30-years she served her community in many impactful ways. Although I didn't know Chris well until I arrived at STLS, I do remember listening to her speak at workshops and meetings.
My first genuine encounter with Chris was back in 2013 while touring the system with State Library representatives. Chris and Janet Ackerman provided us with a tour of Steele Memorial Library in Elmira. I recall from our conversations both Chris and Janet believed Steele was a special place.
In more recent years I worked with Chris on the Directors Advisory Council (DAC) and the Spring CE planning team. Repeatedly, Chris was one of the first to step forward relative to project planning.
On the DAC she volunteered her time to review and draft known automation policies and a system-wide library card application. Through the Spring CE planning team, she continually kept team members informed of programs that interested CCLD staff along with STLS member librarians. Her actions indicated she put colleagues first.
At the end of July, Chris took time to answer some of my questions about her role as librarian. Here is how she responded.

Brian: What sparked your interest in librarianship?

Chris:
I began working as a reference page in 1972 while in high school. Back then, the librarians allowed me to take phone messages while they were at lunch.  Since one of my tasks was to shelf read the reference collection, I realized that I knew where to find the answers to the inquiries just from my familiarity with the collection.  I discovered a whole world of information at my fingertips. I was hooked.  I loved the challenge and knew I wanted to spend my life in this service.
Brian: How did you find your way to CCLD?
Chris: After working for 6 years full time in Pennsylvania libraries, my family relocated to Chemung County in 1987.  Although I had received a college degree by then, I hadn't completed library school but still wanted to be a librarian.  I sent my resume' to Steele Library and Jim Sleeth hired me as the part time Volunteer Coordinator at the Elmira Heights Library.  At the same time, I began library school part time.  The Heights Library was a great training ground.  The branch was in the process of being automated and circulation desk was manned by 25+ older volunteers.  I took on the challenge of teaching them to use computers, read email, and check out books online.  There was no Internet back then.

Brian: Did you ever have a moment that confirmed your role as a librarian?
Chris: I've had so many moments. The satisfaction of finding information for patrons who were in need definitely confirmed my role. That goes as far back as my reference page days.  While working in youth services, I shared the importance of reading to children, parents, and educators. That also confirmed it. As a storyteller, the love I felt after telling a story to a group was the best.  Storytelling is such an intimate experience and you know the impact when children respond with big hugs afterward.

Brian: What was your biggest challenge as a librarian?

Chris: My biggest challenge(s) has been to plow through in the name of change when others disagreed or were opposed.  I learned to just go with my gut and do what I felt was best. I was successful in bringing others along when they saw that the changes impacted positively on the library and its patrons. Although not easy, I've never shied away from difficult tasks. Anyone who knows me knows I don't react well to poorly organized projects.

Brian: What advice would you offer newer library staff members?
Chris: Don't lose sight of why you are working in a library or chosen this profession.  It's about the service to our patrons no matter how difficult that may be.  We can easily get caught up in a complaining mode about demanding patrons and the time we must work on public desks.  Yes, we might have answered the same question day after day or had to deal with bathroom issues and most recently addicts. Don't forget that there are so many great people who use the library!  At the end of the day, you should pat yourselves on the back for being pleasant and helpful no matter what.
Brian: How do you plan spending your time post-retirement?
Chris: Being a worker bee was instilled in me at an early age so I probably will stay as active as possible. With 7 grandchildren between my husband and me, I doubt I'll have trouble staying busy. My first task will be to finish some remodeling projects I started at home.  I want to get into a good workout routine too to remain healthy. I wouldn't mind doing some storytelling. I'll definitely visit my grandchildren's classrooms. I'm not opposed to finding a part time job either.  I'll play it by ear. I'll be tuning in to programming at the libraries and hope to participate since that wasn't always possible while working.  And I have a reading list that's quite lengthy.  Now I can float in my swimming pool and read for the rest of the summer!
Brian: Is there anything else you would like to share about this wonderful field of work?
Chris:  No matter what your role is in libraries, it is important. Upper level decision making and fundraising is vital, of course, but so is working at the circulation desk.  When I helped to plan training days, I always wanted to make sure there was a component in the day for circulation workers. Their role is critical to the image of every library.  
My advice is if you don't enjoy what you are doing, move on, and find something else.  It's ok to do that because public service is difficult, however, with the right frame of mind and attitude, it can be quite rewarding. The future for libraries looks very exciting.  Although different from what I was challenged with in the 1980s and 90s, there's so much to learn and offer to library users.  What a wonderful time to be a librarian!          

Finally, I would like to acknowledge the Friends of Steele Library, now CCLD, for funding my MLS. They gave me the opportunity to get my degree when otherwise; I might not have afforded it.  It changed my life, gave me so many experiences and such a wonderful career. I am forever grateful. I also want to thank all my CCLD and STLS member library friends. The relationships and collaborations were meaningful over the years.  

Thank you, Chris for your commitment to both the Chemung County Library District and Southern Tier Library System. I am sure our paths will cross again, but in the meantime, I want you to know your service is valued.
Have a great weekend, STLS!

Kindest Regards,
Brian Hildreth, Executive Director
Southern Tier Library System
Read past Friday Follow-ups: http://www.stls.org/blog
Follow me on Twitter: @comlibpartner