Helping All Trustees Succeed: A year in the making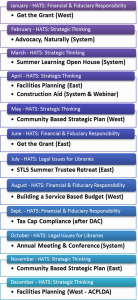 It has been a year. Some of the work that we thought would be given to a new hire last year is still mine (member event calendar, member website training & assistance, annual reporting). We've happily made that hire and she'll begin in September. I'm glad we waited – the team we will have at STLS this fall is unparalleled in the state and I am energized by it.
In the past year I've experimented with new things to our system. STLS hosts 1- 3 trustee focused workshops every month, one of which is either held on a Saturday or during evening hours to accommodate trustees with 9 – 5 employment. These are tied to the HATS standards of learning, so that I always know that I'm offering learning opportunities in every area of governance. We have a trustee book club, send out templates on policies, and are at more member library board meetings than ever before. We facilitate strategic plans every step of the way, and help libraries conduct budget vote campaigns at a variety of depth levels – from merely sending tips to monthly meetings.
Here is what I think I've learned in this year:
More is not better for you. Our most highly attended workshops are that way because of director attendance. Outside of our annual meeting and summer trustee event, we rarely see more than 4 trustees at a workshop.
You gain more at your board meeting. When I present to your board, at your board meeting, based on an action or direction you are considering, you gain more. What I've prepared is designed for you so you get more information that is relevant to your specific institution and situation. And you usually feel freer to ask specific and sometimes pointed clarifying questions.
Everyone is busy. As volunteers, your library hat is just one of many you wear in the community. Librarianship is my profession and my avocation. I feel strongly that you, as stewards of public funds and governors of an essential public good, take the position of trustee seriously. That said, we all have rich, meaningful lives outside the library that maypreclude our participation in activities outside of those required by law – like attendance at your board meetings.
I will change how STLS's trustee services are delivered based on what I've learned. We will annually hold only four workshops – each one in two locations in the system, in addition to our four system wide annual events. For those who like to plan which opportunities fit their needs, you can view the plan in the image above. I'll also send out bookmarks to help you plan. These are not intended to replace consultations at your libraries, but rather to inspire consultation at your libraries.
My intention in reducing this set of services, is to improve and expand the time I spend at your board meetings and facilitating your work to govern your libraries. This will include trustee orientation to be held at your library for your trustees; additional guidance packets on finances, personnel & labor law, friends groups, non-profit status, and all other policy and procedure areas requested; lawyer reviewed policy templates; and, additional on the ground facilities planning assistance.
As summer approaches next year, you'll hear me asking how this new service set is working for you and I hope you'll share with me what you'd like to see happen at your library that you don't feel supported on. My role at STLS was created so that I might best assist our member trustees in creating sound and sustainable institutions within which their directors can develop and lead superb services to their communities. Thank you for helping me do just that.
Upcoming Events:
Annual Summer Trustee Retreat: There is still time to register for this incredible opportunity to take advantage of the expertise of a lawyer and an accountant. While the session with the accountant is aimed at assisting Association Library treasurers, this event is open to all libraries. I recommend you come in pairs so that at least one of you can engage with the lawyer and one of you can be with the accountant. Register here: Or just send me an email! gustinam@stls.org.
Build a Service Based Budget: This workshop is open to both directors and trustees and is taught by Brian and myself. We'll walk through the steps of creating a budget that starts with the true cost of services you provide to your community. This practice promises to shift your thinking on communicating finances with your stakeholders, as well as planning for the future. Register here: Or just send me an email! gustinam@stls.org.